Fairy Tale Eggplant Sauté is a vegan dish made extra special with this seasonal eggplant. The sweetness from the eggplant and the combination of ingredients & spices blends well for a tasty dinner!
This "Fairy Tale Eggplant Sauté" is always a big hit!! It is a vegan dish made extra special with this seasonal eggplant. The sweetness from the eggplant and the combination of ingredients & spices blends well for a tasty dinner!
Jump to:
💚 Tempted to have a "rendezvous" with fairy tale eggplant?
One of the best ways to decide "what's for dinner" is to simply stroll around the produce section and see what jumps out at you. First and foremost, it is important to look for organic, local & seasonal produce. That's how I came across these violet-purple fairy tale eggplants.
Most often, you will find printed signs by the produce sharing details about its country of origin, the farm it was grown on (local), and if it's organic. Imagine seeing these gorgeous, violet-purple fairy tale eggplants ... how could you resist!
🛒 Ingredients
What is the origin of eggplant?
The origin of eggplant dates back to the 1700s when the Europeans named it for its similar shape and size to goose eggs.
Eggplant is also referred to as aubergine or brinjal. It is most often considered a vegetable, but it is a berry (fruit) by botanical definition.
They are quite "enchanting" little eggplants  (as if from a fairy tale), with beauty in their violet color, sweetness in their taste, and petite charm in their size!
Other Key Ingredients:
Shiitake Mushrooms
Roasted Red Peppers
Yellow Pepper
Fermented Chile Paste
Garbanzo Beans
👀 What To Look For When Buying Fairy Tale Eggplant
Italian eggplant (what we typically see in the market), is available year-round, but the season for eggplant is at its peak from July to October. There are many sizes, colors, and varieties of eggplants to choose from - Italian, Graffiti, White, Japanese & Chinese, Indian, Little Green, and Thai .... to name a few.
Fairy tale eggplant only grows to about 4 inches in length and is about an inch in diameter.
Tips for buying eggplant in general: Eggplant should be firm but not hard, smooth & shiny, and free of brown blemishes or soft spots. Male eggplant has a brown circle on the bottom and tends to have fewer seeds. Some people believe smaller eggplants have a better taste but keep in mind that size doesn't necessarily determine the bitterness of the eggplant. I would say it's more important to pay attention to the look & feel when choosing your eggplant.
👩‍🍳 TIP: You can store it at room temperature for 2 days and refrigerate it up until a week.
❓FAQ
Is the skin of fairy tale eggplant healthy for you?
YES, YES, YES .... eat the skin!
Nasunin is an anthocyanin in the eggplant skin. It is a powerful antioxidant that protects brain cell membranes from free radical damage. Anthocyanins are water-soluble pigments that have many health benefits. They also help give the eggplant its well-known, dark purple color.
The skin of the eggplant is also rich in fiber, potassium, and magnesium.
Eggplants are in the nightshade family. For people with some health conditions, eliminating nightshades from their diet has been shown to be beneficial for them. But, I would keep in mind many of the health benefits before excluding them.
What are the best ways to prepare eggplant?
To decrease some of the bitterness found in other varieties of eggplant, it can be helpful to draw out some of the compounds that contribute to the eggplant's bitter taste when "sweating" the eggplant.

How to Sweat Eggplant
Sweating eggplant will leave the eggplant more tender, less bitter, and more palatable. It will also make the pieces less prone to absorbing any oil used when cooking.
Cut the eggplant into slices or bite-size pieces.
Sprinkle salt on both sides and let the salted pieces sit for about 30 minutes.
Moisture will be drawn out, just rinse with water and then dab dry.
👩‍🍳 TIP: To prevent freshly-cut eggplant from going brown when exposed to the air - prepare a bowl of water in advance prior to cutting eggplant. Then add a tablespoonful of milk to it. Add the freshly cut eggplant to this, and it will not blacken. 
🍽️ Favorite EASY Eggplant Recipes
Baba ghanoush: grill the eggplant in halves for 30 to 40 minutes, remove the flesh and blend with yogurt, tahini, lime juice, garlic, and spices to taste. Top with roasted pine nuts and serve with pita bread.
Ratatouille: Combine eggplant, onion, garlic, zucchini, peppers, and tomato, sautéd in a little olive oil, to make a ratatouille
There are so many ways to prepare eggplant - baked, fried, grilled, and sauteéd. Get creative!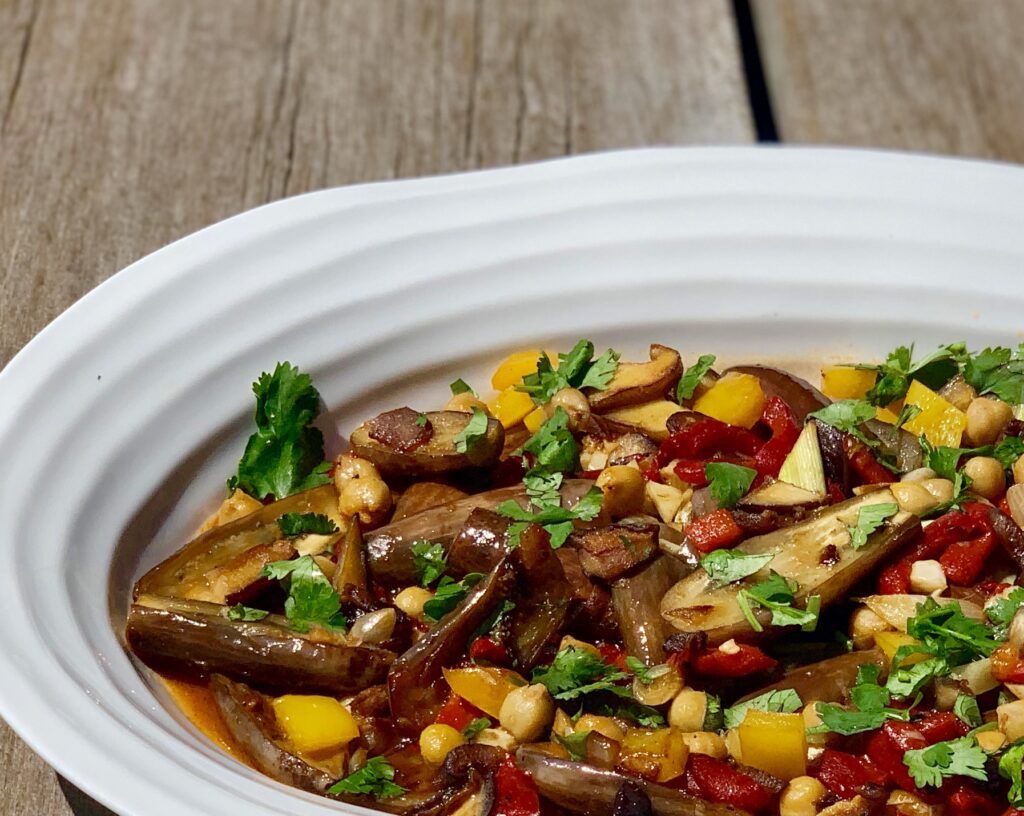 🌿 Sustainability
Eating Seasonal Is Important
In this day and age, you can go to the grocery store and get your hands on almost any ingredient whether it's in season or not. Unfortunately, this way of consumerism is not sustainable, and more often than not, when you buy ingredients that are not locally in season, they have very little flavor and fewer nutrients. To learn more about eating seasonally check out our Seasonal Produce Guide found HERE!
📖 Recipe
Fairy Tale Eggplant Sauté
Fairy Tale Eggplant Sauté is a vegan dish made extra special with this seasonal eggplant. The sweetness from the eggplant and the combination of ingredients & spices blends well for a tasty dinner!
Ingredients
3.5

oz

shiitake mushrooms

1 - 2

shallots

1

roasted red pepper

jarred is fine

½

yellow pepper

10

fairy tale eggplants

4

tablespoon

olive oil

½

teaspoon

crushed garlic

1

tablespoon

ketchup

1

teaspoon

fermented chile paste **see note

2

tablespoon

maple syrup

½

teaspoon

Worcestershire sauce

1 13.4

oz

container of garbanzo beans

chick peas, strained & rinsed

3-4

tablespoon

chopped fresh cilantro

salt & pepper to taste
Instructions
Clean, stem & slice the shiitake mushrooms

Peel shallots, chop finely

Slice the red peppers into slivers

Dice the yellow pepper

Rinse the eggplants under running water. Dry, trim the top end (with the greens)  and slice each lengthwise.

Mix all the wet ingredients together in a measuring cup and set aside.

Heat 2 tablespoon oil to a non stick pan. Cook shiitake mushrooms for 5 minutes, stirring occasionally.

Add shallots and cook until lightly browned. 

Remove mushrooms & onions from pan and set aside.

Add remaining (2 tbsp) oil to pan, and place eggplant in pan cut side down.

Cook until slightly tender, about 6-8 minutes. Add in yellow peppers & garlic and cook another 2 -3 minute before adding mushrooms and onions back to pan. 

Add wet ingredients and stir gently. 

Add in chick peas and cook until all ingredients are blended & heated thoroughly. Add salt & pepper to taste.

Top with chopped cilantro & serve!
Notes
*For a little extra kick add crushed red chili pepper flakes
**I use "Mother In Laws" Gochujang Fermented Chili Paste
***If fairy tale eggplant isn't available, substitute with a different variety of eggplant and cut into cubes
Nutrition
Calories:
658
kcal
Carbohydrates:
101
g
Protein:
21
g
Fat:
24
g
Saturated Fat:
3
g
Polyunsaturated Fat:
4
g
Monounsaturated Fat:
15
g
Sodium:
257
mg
Potassium:
2429
mg
Fiber:
35
g
Sugar:
45
g
Vitamin A:
372
IU
Vitamin C:
63
mg
Calcium:
170
mg
Iron:
7
mg
Environmental Information