Pesto Zoodles & Tomatoes Salad - a yummy summer salad created with raw zucchini noodles using a spiralizer. This easy zoodle recipe can be made in just 15 minutes!
Recipe by Chef Cindy
What's not to love about summer when you can have Pesto Zoodles & Tomato Salad made with raw zucchini noodles. In the summer months you have easy access to locally picked organic and seasonal zucchini, corn, cucumbers, and tomatoes. You can almost always find these vegetables in your local supermarket but the freshest produce is purchased at your local farmers market or from a CSA (Community Supported Agriculture). You are guaranteed that it was picked at the ripest point and many times within hours of being in your hands.
Vegetables are great as a side dish or as the main meal. Some of my best recipes are simply made with vegetables cooked on the grill, roasted, sautéed or added to soups. And changing the cut and shape of the vegetable can create a whole other use for vegetables in a recipe. With the use of kitchen gadgets, there's no stopping your flow of creativity. A Spiralizer is one of those gadgets you can have fun with and create zucchini noodles or zoodles for this Vegan Pesto Zoodles Recipe. Instead of a typical Italian pasta meal, you can have Pesto Zoodles with Tomato Salad. Raw zucchini noodles are especially refreshing on a hot summer day, because it can be served cold. And, Pesto Zoodles & Tomato Salad takes only 15 minutes with the use of a spiralizer!
There are various gadgets to create zucchini noodles, but I went for the Veggie Bullet pictured below. It is easy to use and makes perfect spirals. The downside is storage & cleaning - it takes up a lot of space with all of the attachments, and after using them, cleaning can be time-consuming.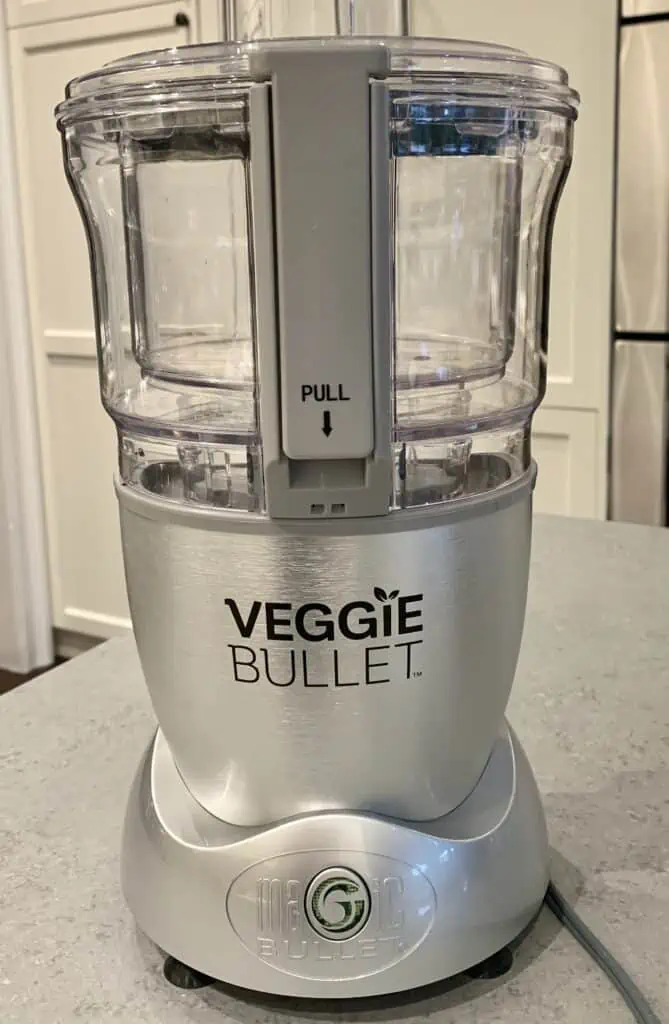 How do you make pesto zoodles or zucchini noodles?
Making this meal is easy once you get your equipment set up - Veggie Bullet and Food Processor. Just send the zucchini thru the spiralizer to make raw zucchini noodles. Then blend the pesto ingredients in a food processor. Mix both in a bowl, and you're ready to eat Pesto Zoodles & Tomato Salad. Note: You can add beans to the salad for some extra protein!
What does the carbon footprint mean?
The carbon footprint of this recipe is 356.0 gCO2e per serving (12.0% fair daily food emissions). That's a low carbon footprint for such a nutritious and delicious meal! That sounds great right, but what does it actually mean? A carbon footprint is the the amount of greenhouse gases, such as carbon dioxide and methane, that are produced by our daily activities and lifestyle choices. Things like how you choose to heat your house, your mode of transportation to work, and even the food you choose to put into your body all contribute to your carbon footprint. Thats why it's more important than ever to be mindful of your food choices and eat sustainably. For more ideas on how to make the transition, check out our post HERE!
To see the original post for this recipe click on the link below:
Pesto Zoodles & Tomato Salad
Pesto Zoodles & Tomatoes Salad - a yummy summer salad created with raw zucchini noodles using a spiralizer. This easy zoodle recipe can be made in just 15 minutes!
Ingredients
2

large zucchini

2

garlic cloves

1

cup

fresh basil

¼

cup

pine nuts

1

tablespoon

pine nuts

¼

teaspoon

salt

2

tablespoons

parmigiano reggiano

or vegan alternative

½

cup

extra virgin olive oil

1

cup

cherry tomatoes
Instructions
Zoodles: Prepare with a Veggie Bullet or a mixer with a spiralizer attachment.

Pesto: Blend garlic, basil, pine nuts, salt, cheese, olive oil in a food processor. 

Clean & halve cherry tomatoes. 

Place zoodles & tomatoes in a bowl and gently stir in pesto. Top with 1 tablespoon pine nuts and serve!
Notes
*If not using cheese, increase salt in recipe to ½ teaspoon. 
Nutrition
Calories:
349
kcal
Carbohydrates:
7
g
Protein:
4
g
Fat:
36
g
Saturated Fat:
5
g
Polyunsaturated Fat:
7
g
Monounsaturated Fat:
22
g
Cholesterol:
2
mg
Sodium:
489
mg
Potassium:
429
mg
Fiber:
2
g
Sugar:
4
g
Vitamin A:
717
IU
Vitamin C:
28
mg
Calcium:
65
mg
Iron:
2
mg
Environmental Information